contributed by Swami Yogeshananda, from notes he sent to us. Swami Madhavananda had come to New York City to be operated on for a benign brain tumor. Swami Yogeshananda, "on loan" from from the San Francisco Vedanta Society, served as his attendant during Madhavanandaji's stay in New York.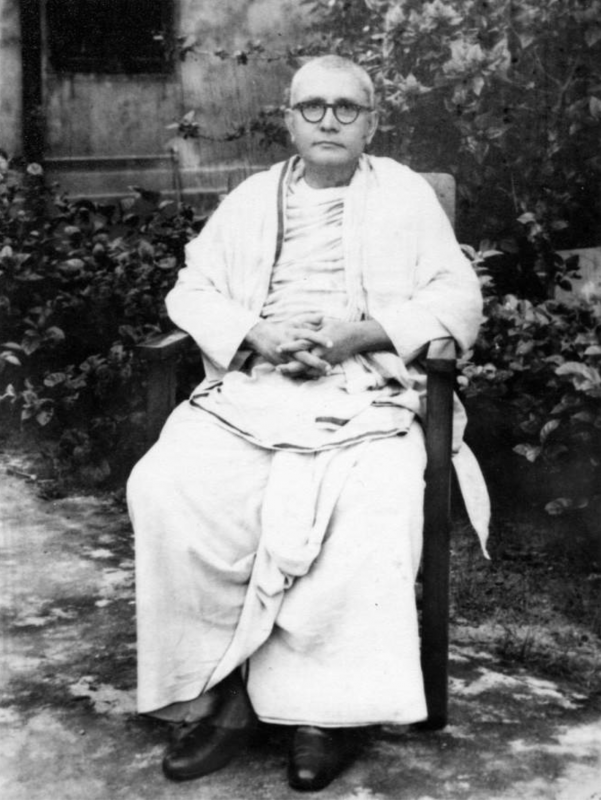 One evening in the Autumn of 1961, when Swami Madhavananda was invited to the Vedanta Society of New York (34 W. 71st Street), he agreed to answer questions of the assembled devotees, a partial record of which is given here.
Question: Is spiritual struggle real or apparent?
Answer: So long as a man thinks of himself as an individual it is real, but if one comes to experience samadhi and the world disappears, then his struggle too is seen to be unreal.
Question: Then who is liberated?
Answer: Whoever it was that felt bound before.
Question: Should one remember God when doing things that are not so worthy, (like seeing a movie)?
Answer: If one can, so much the better. Then that activity will itself change. And also the Lord will not leave him long in a state where he does such things.
Question: Does the language used for God's name matter?
Answer: If one knows it is God's name, that is the important thing.
Question: Isn't the natural tendency of the mind to go upward?
Answer: Unconsciously, perhaps you might say.
Question: Can we exert free will to get beyond causality, where we will be free?
Answer: Try! The point is, be consistent. Don't use Free Will in mundane affairs, and then put all spiritual matters into the category of "God's Grace".
Question: How can we love incarnations, if they are embodiments of the God who created this hell of a world? (laughter)
Answer: In one aspect he tries to bind us, and another to free us. He plays with us thus. These are the benign aspects, so they can be loved.
Question: Why doesn't the destructive aspect incarnate?
Answer: Maybe Hitler or Stalin was some such… But God sees it as we see a play.
Question : Will you tell us something about Swami Turiiyananda?
Answer: Read the books and articles. It is difficult to say much about such people — you may see the beauty of the ocean but can you write about it like Tagore or Tennyson? Those who have vivid memories can recite incidents to support their statements. In our day we had no such books, (we) had to depend on memories. I remember one thing that Nityagopal told us Thakur had said about Maharaj: 'Rakhal is like a green-looking banana which is really ripe, and like a flint brought out from under water.'
Question: How can one learn not to criticize others — without causing too much strain to a beginner? (much laughter)
Answer: It bespeaks a 'holier-than-thou' attitude, to have this problem at all. Here is one idea: A man's sins are being washed off on to oneself when one criticizes that man. This is an old and familiar way of thinking to us.
About Swami Madhavananda, who served as the 9th President of the Ramakrishna Math and Ramakrishna Mission:
He was born on Saturday, 15 December 1888 in West Bengal. His pre-monastic name was Nirmal Chandra Basu. A brilliant student, he graduated from the University of Calcutta with honors. During his student life he read the works of Swami Vivekananda and was inspired by the ideals and message of Sri Ramakrishna and Swamiji.
He was initiated by the Holy Mother at Jayrambati in March 1909. She considered him to be as commendable as 'the elephant's tusk covered with gold'. He joined the monastery at Chennai in January 1910, and was initiated into sannyasa by Swami Brahmananda in January 1916. Later, his younger brother Vimal also joined the Order and became Swami Dayananda.
Swami Madhavananda spent a few years at the Udbodhan office assisting with the publication of that journal. He was later sent to Mayavati as the head of the Advaita Ashrama. He made several improvements, and with the assistance of the renowned Hindi poet, Suryakant Tripathi 'Nirala,' started a Hindi language magazine for the Order called 'Samanvaya.' The swami was instrumental in spreading the ideals of Sri Ramakrishna-Swami Vivekananda in Gujarat, and also in founding the Rajkot Centre. Later, he was sent to the United States to preach Vedanta at the San Francisco monastery.
The swami became a Trustee of the Ramakrishna Math and a member of the Governing Body of the Ramakrishna Mission, in 1922. He was called back to India in 1929, to serve as a Joint Secretary of the Order, and became General Secretary in May 1938. He continued that work until he was made a Vice President in March 1962. (To date, his tenure as the General Secretary is the longest one.)
After the demise of Swami Vishuddhananda, he became President of the Order on 4 August 1962. In 1963 the swami presided over the Birth Centenary Celebrations of Swami Vivekananda.
Swami Madhavananda was austere by nature and used to practice japa and meditation for long hours despite his rigorous work schedule. He was very well-versed in scriptures and translated many, including the Brihadaranyaka Upanishad, Brahmasutra, Bhasha Paricchheda, and others. His adherence to principles, able administration, scholarship and loving disposition made him a legendary monk of the Order. He was known for remarkable poise and forbearance.
— Biography adapted from the website of the Vedanta Society of St. Louis