by Rita Mathew and Bhagirath Majmudar
Visiting Swami Y
by Rita Bhandarkar-Mathew, Athens GA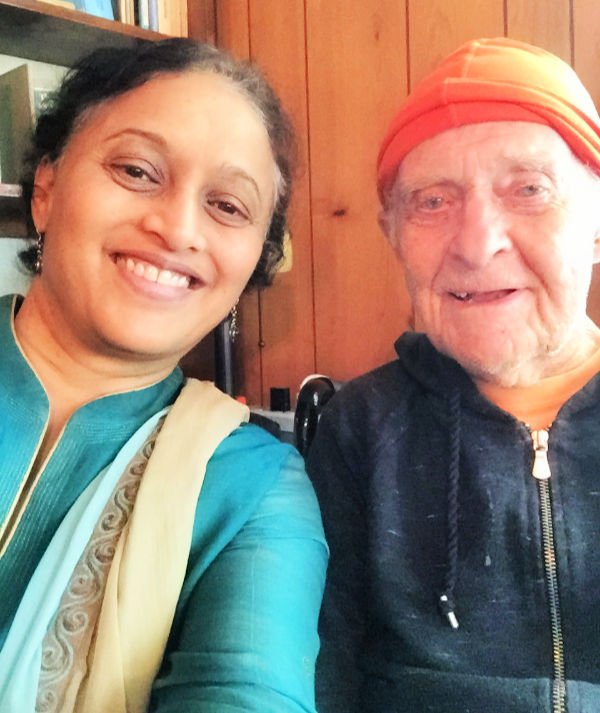 Like iron filings drawn to a magnet, that's how much I wanted to meet Swami Yogeshananda, affectionately called Swami Y by those close to him. Although I had moved to Athens, GA in 1994, I had not heard of the Vedanta Centre of Atlanta until 2015, and certainly not met Swami Y, a senior monk of the Ramakrishna Order.
What surprised me was that Swami Y had ventured to Atlanta in 1981, to plant a seed which would grow into an oasis of Vedic teachings for Atlanta and its vicinity. Because of his accomplishment of forming a non-profit organization, called "The Eternal Quest", and service of 28 years before retiring to the Trabuco Canyon Monastery in 2009, I had good reason to want to meet him.
Earlier last summer, I heard that Swami Y had been moved to hospice care with instructions for comfort measures only. When I found out that I would be in Los Angeles on August 25th, that too on Krishna Janmashtami, I realized that this might be a chance to pay my respects to an extraordinary person.
From Mystic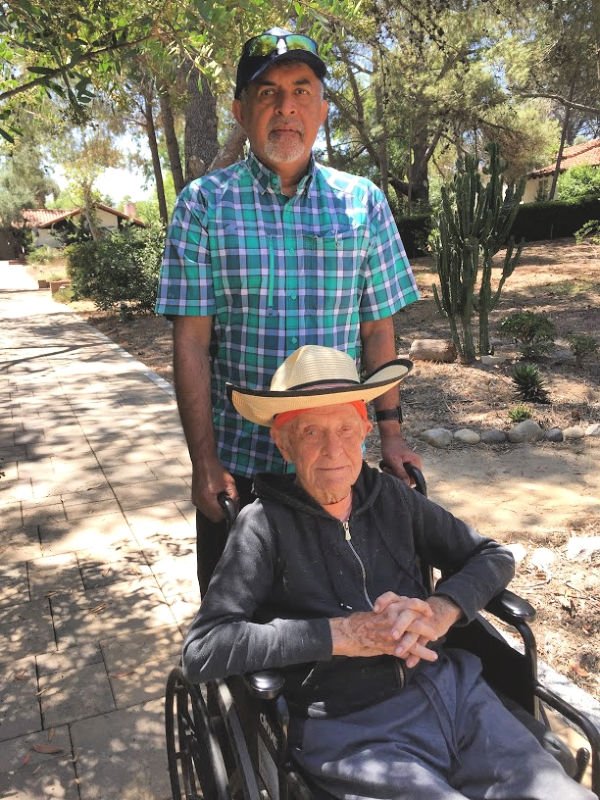 When I arrived with my husband at the Monastery, Swamiji appeared to glow in the bright, mid-morning sun that was streaming through the window of his room. The ochre robe accentuated his aura, and his radiance filled the room.
Swamiji started hovering over us. "Pull up that chair. Come sit here, tell me all about yourselves. Where are you from? What about your families?"
Ranjit perched on a chair, and leaned forward slightly, elbow resting on his lap,
"What do you do?" enquired Swamiji.
Ranjit replied that he was a physician, and when Swamiji asked what kind, he said he was a gastroenterologist.
"Too bad", chuckled Swamiji, "You're not who I need". And then he continued. "My father was a physician. So was my brother, my uncle, and my nephew, too."
That is exactly how we greet each other in India. Even today, even in a professional setting, the conversation sometimes veers towards family. How ironic that Swamiji, who according to the customs of the Ramakrishna Order had burned up the "old life" in the "funeral fire" before taking final vows, would now open up in such an endearing way.
After a few moments of silence, Ranjit wanted to know how come Swamiji chose not to become a physician. Swamiji started laughing, and without hesitation, pointed to a picture of Sri Ramakrishna which was above his bed, and said, "Thakur was calling me". The strength of his conviction startled me. This is how it started, I thought to myself – an intentional decision, to rise above the ways of the world.
Swamiji continued. "I was seeking the truth when I first started. As a conscientious objector to war, I chose to join the Civilian Public Service Corp and served at Pennhurst, short for Pennhurst Asylum, an institution for mentally and physically challenged in Pennsylvania. I think it was in 1944 or thereabouts." It was during his time at Pennhurst, that Swami Y's inner need for a guide intensified. The treatment of patients left him convinced that the medical profession was not his calling. It was this inner search that led him to his spiritual guru, Swami Yatishwarananda, in Philadelphia.
"How did you first come here to Trabuco?" asked Ranjit after a few moments.
Swamiji shared that his brother had invited him to meet Gerald Heard. Gerald Heard was a British scholar who had helped found Trabuco College to study consciousness, in 1942. Part of Heard's inner circle were philosophers, such as Aldous Huxley, and the writer Christopher Isherwood. Heard would later become a Vedantist and a disciple of Swami Prabhavananda. At his brother's insistence, Swami Y made a brief visit to Trabuco Canyon in 1945. This marked the start of his spiritual journey to learn about mysticism and meditation.
To Monk
He would return in 1949, when Heard deeded 240 acres of land in the Santa Ana mountains of Orange County, which included Trabuco College, to the Vedanta Society of Southern California.
"Did you come by car? Or by bus?" asked Ranjit.
Swamiji raised both his hands. "Aahhh, you are taxing my brain…. Wait, wait …. It's coming. Not car, not bus. I came by train from San Francisco to Santa Ana. I was picked up by the head Swami and then we drove to the Monastery". It would be twenty years of working and waiting before he reached Belur Math, in West Bengal, to take his Sannyasa Vows.
Swamiji's first visit to India began when he landed at Dum Dum Airport in Calcutta on December 13th, 1965. Shortly thereafter, he was sent to Narendrapur, near Calcutta to teach at the Ramakrishna Mission College. Ranjit seemed to relate to Swamiji with surprising ease. After graduation from medical school, Ranjit shared that he made his way via Assam and Calcutta, to serve at the Leprosy Mission Hospital in Bhutan.
"In 1969, I left India for London, where I lived for six years in Muswell Hill," continued Swamiji.
"What a coincidence!" Ranjit and I exclaimed together. "We lived down the street in Highgate. A few years later, however, in 1978."
Swamiji got off at Highgate Tube station and walked past The Highgate Cemetery on his way to the Ramakrishna Centre in Muswell Hill. Ranjit and I got off at Highgate Tube station and walked up Shepherd's Hill to the London Mennonite Centre, where we lived.
London was the happiest time of his life, said Swamiji. Swami Ghanananda had taken him under his wings and invited him to stay at the Ramakrishna Centre in London. The very presence of Swami Ghanananda infused the room, indeed the whole house, with a higher force: bright, light, and intelligent. Swami Y considered himself the recipient of a gift, of prana pratishta (a ceremony by which the divine essence of a deity is brought to inhabit an image or icon of that deity).
There we were, on Krishna Janmashtami, receiving teachings of our true nature. We had lived on three continents, each of us seeking truth, and pursuing similar convictions of nonviolence and service to humanity. As Swami Y exclaimed so succinctly, "so many touch-points but only one reality!"
Conclusion
On our way out, we met a volunteer who is working with Swamiji, recording audio books for his website vedantamedia.org. At 96, Swamiji is still alert and energetic, and continues to share his gifts with future generations!
---
Rita Bhandarkar-Mathew was born and raised in the Goud Saraswat Community in India. She spent time in London, England, and Iowa City, Iowa before settling in Athens, GA, where she has lived for the past several years with her husband and children. She is a CPA by vocation, a singer of devotional Hindustani Classical Music by avocation, and co-author of a book, "Breaking the Silence: Poems of Spiritual Luminescence". She can be reached at ritzmath1@gmail.com
A Memorable Meeting
by Bhagirath Majmudar
Maybe our LAST but definitely a LASTING meeting with Swami Yogeshananda
We are immortals who know mortality. I therefore, had a feeling that my recent visit with our Dearest Swami could be the last one. I therefore, wanted to fill it with a lasting joy and immortal memories. At 82, I have started feeling the Biodegradability of my body, so I was deeply gratified to see that Swami Y was still well preserved!
That does not stop me from reminiscing about his agile wiry self swiftly roaming around in our Atlanta monastery eyeing every thing and every body like an eagle. To see him confined to his wheelchair in his final destination of the Trabuco Monastery reminded me of Keat's poem, " I feel like a sick eagle looking at the sky"! His spirit of course, was indomitable! He has been a Gnanyogi who lived like a Karmayogi all through his path speckled with formidable challenges!
Yes, we are deeply indebted to him for his unlocking the doors to both eastern and western philosophers, his disposition of a platinum wire — easy to get Red Hot but readily cooling down, loving everyone but spoiling none, lovable beyond our control! He synthesized Evolution and Revolution in the most intricate way. He shaped our lives indelibly. THANKS!
On his return to Atlanta from a visit to a California Monastery, he narrated of his having seen a snake in the wilderness there. I instinctively blurted out if it was a rope or a snake….. he laughed….
With his super cognitive mind, he instilled in our mind the process of critical thinking … the greatest gift a Guru can give!
It is traditional inn India to give Guru Dakshina, a gift to Guru. The Best I can bestow on him is my heart felt feeling that he lived his life illustriously. Life for all of us became better because he lived it here.
Dear Swami, I thought you will feel gratified to hear it from your disciples …..
Om Shanti, Shanti, Shanti ….
---
Bhagirath Majmudar is a founding member of  the Vedanta Center of Atlanta. He is emeritus Professor of Surgical Pathology, and Obstetrics-Gynecology at Emory University School of Medicine, and received several prestigious awards for teaching at Emory. Bhagirath has several publications in prose and poetry, in Vedantic and other fields.  As a Hindu Priest, Bhagirath has a passion for the Sanskrit language and has officiated about 400 weddings, mostly Interfaith. He can be reached at bmajmud1962@gmail.com.