by Luiz Antonio Souto Monteiro
"… Swamiji (Siami Vivekananda) had a vision in which the banner of Sri Thakur (Ramakrishna) was being stuck on the peak of the Andes Mountains …" — M. (Mahendranath Gupta, who wrote "The Gospel of Sri Ramakrishna")
EARLY DAYS
In 1911, both in Argentina and Brazil, "The Gospel of Sri Ramakrishna" and Swami Vivekananda's "Raja Yoga" were made available to the public in general. This corresponded to the rising of an early interest in neo-Vedanta philosophy in Latin America. At that time India was known only for its exotic peculiarities: snake charmers, untouchability, the holiness of the cow, etc. Two decades later, in 1932, a group of Argentinian students requested a swami from Belur Math to guide them on spiritual subjects related to Hinduism and Vedanta. The one appointed was Swami Vijayananda (Pasupati Maharaj).
There is an interesting incident, worthy to be mentioned about this appointment: The swami didn't agree to his nomination to Argentina! "M" sent for him and rebuked the young Swami: "I could never imagine that you were a coward." Pasupati Maharaj replied: "It's not a matter of cowardice, I just can't imagine being far away from Mahapurush Maharaj and the other Sri Ramakrishna's direct disciples still alive."
"In this case," retorted M., "it's worse than cowardice, it's selfishness. Don't you know that Swamiji had a vision in which the banner of Sri Thakur was being stuck on the peak of the Andes Mountains? And you have been the chosen one to realize his dream!" The swami came to his senses, tears dropped down his cheeks, and he eventually accepted his assignment to Buenos Aires.
BRAZIL, FINALLY
Some more decades passed, until 1957, when Brazilian students of Vedanta wrote to Swami Vijayananda asking him to visit Rio de Janeiro. The Swami arrived in October of that year. It was a kind of love at first sight.
A disciple of Revered Brahmanandaji Maharaj, Vijayananda Maharaj had been blessed with the darshan of Holy Mother and many other direct disciples of Sri Thakur. A majestic figure, he lectured in the Spanish language, his fiery words revealing the unknown ideals of Vedanta. Strong and genuine spirituality was tangibly felt in the atmosphere. From then on he used to come every year for a period of ten weeks shared between Rio and São Paulo. Those were unforgettable days of inspiring lessons on Vedanta!
THE FIRST ASHRAM
Half a dozen dynamic candidates to the brahmacharin's life started a sort of a flourishing ashram. A cozy house close by downtown, in the pleasantly cool hills of Santa Teresa — Rio's Montmartre or Greenwich Village — was rented. It was the early 1960s.
In no time their diligent work spread the message of Vedanta. Several important books were translated into Portuguese, such as "The Eternal Companion" and "The Spiritual Teachings of Sri Ramakrishna". A Monthly Bulletin, printed on an old-fashioned mimeograph, let devotees know the news and the activities of the ashram. Swami Vijayananda wrote an excellent book containing short biographies of Sri Ramakrishna, Sri Sarada Devi, and Swami Vivekananda. It also included the Master's monastic and householders disciples, both men and women.
THE SCHISM
With the demise of Pasupati Maharaj in 1973, some brahmacharins didn't accept the leadership of the new swami-in-charge — Paratparanandaji Maharaj. One of the novices self-assumed the role of Vedanta teacher and actually started giving spiritual initiation. A schism occurred.
Four devotees who remained loyal to the swami split apart from the ashram and started a new Vedanta Center under the direction of Swami Paratparananda. This was the seed of the current Centro Ramakrishna Vedanta – Rio de Janeiro.
Meanwhile, in São Paulo, the local devotees kept faithful to Belur Math and assumed the leadership of Vedanta in Brazil. Djalme Gomes, a piano teacher, continued meeting with Vedanta students at his home under Swami Paratparananda's guidance.
RIO GETS A START FROM ZERO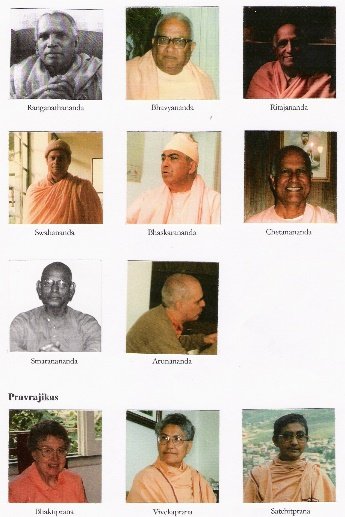 Paratparanandaji, and later on Swami Pareshanandaji, used to come to Rio for very short stays (4 days per year). To fill in the gap for the 11 months without swamis, Rio's devotees began to invite renowned monastics from abroad.
The 1980s and 90s provided Rio with illustrious visitors – Swamis Bhavyananda from London, Ritajananda from Paris, Swahananda from Hollywood, Chetanananda from St Louis, and Bhaskarananda from Seattle. They offered us unforgettable moments of inspiring spirituality. And what to say about Pravrajikas Bhaktiprana from Hollywood, and Vivekaprana and Satchitprana from Sarada Math in India? They also strengthened us on our spiritual path. All of them pleaded to Belur Math for a permanent swami to be posted in Brazil.
Slowly and gradually our group took shape with newcomer devotees for the Sunday's readings, satsang and meditation. Two more Vedanta Societies emerged in important cities: Curitiba and Belo Horizonte.
OUR DREAM COMES TRUE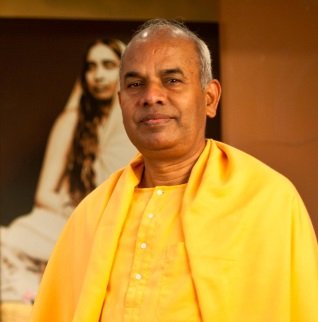 In 1999, Swami Nirmalatmananda was appointed as the swami-in-charge for Brazil, with headquarters in São Paulo. A dynamic administrator, he visited every nook and corner of Brazil, expanding the Ramakrishna Movement, lecturing, granting interviews, bestowing initiation, etc. He started karma yoga activities, published several books and a magazine – Vedanta. Two more Centers came into being: Brasilia (the capital of the country) and Fortaleza in the northwest. Swami Jitananda, a Brazilian, is our Assistant-swami.
Miss Cordelia de Jesus, pioneer Vedantist in Rio (a brahmacharini), donated two of her apartments to the Order, which made it possible to buy a nice house for our own Rio's Vedanta Center. The house was built in 1865; at that time Sri Ramakrishna was just 29 years old. There are neither bricks nor any cement at all in some of its two-foot-thick walls; just stones and whale oil as its concrete structure. Revered Swami Smarananandaji Maharaj, then General Secretary and now President of the Ramakrishna Order, celebrated the house's consecration in 2002.
CONCLUSION
Even though it's slow, there is an increasing interest in the ideals of Vedanta and the teachings of Sri Ramakrishna and Swami Vivekananda. From every corner of Brazil people ask for Vedanta's books and magazines. Still, the number of devotees is not that large. A great swami of ours predicted that we shall never be many, rather some few and ardent followers of Truth.
Swami Nirmalatmananda's dynamic work gave a new impetus to the Ramakrishna Movement in our country. Beautiful seeds have been sowed and the future of Vedanta sprouts up bright. Time is ripe for spreading Vedanta in Brazil and South America. New Swamis will be welcomed for the other Brazilian Vedanta Centers.
SOME ACTIVITIES
A SHORT PROFILE OF BRAZIL
Rio is a sunny city, surrounded by beaches, bays and conspicuous mountains. Humble people from the slums on the hills mix freely with those not so humble. They relax from their problems with singing and dancing during the democratic four day festival of Carnival. Of course, there are also football games every weekend. Even though passing through difficult days — corruption, no public health service worthy of its name, unemployment and increasing violence — in general Brazilians are considered happy and joyful people. How do they express their joy? Through laughter (see photo below, please).
American Vedantist's readers are welcome to Rio.
Population of Brazil : 207,000,000 inhabitants, largest after China, India, USA and Indonesia
Total area : 8,511.\,965 sq. km, largest after Russia, Canada, China and USA
Government Type : Federative Republic
Capital : Brasilia DF
Official Language : Portuguese (All other Latin-American countries speak Spanish.)
More background
Race: The original inhabitants were the local natives. In the year 1500, when the Portuguese navigators arrived in Brazil, the so-called "Indians" were 900 nations of independent tribes. It is interesting to note that heir ethics, morals, and spiritual values had many similarities with those of Vedanta.
Europeans and the Africans — the latter brought to the New World as slaves — mixed with the local natives, giving birth to harmonious miscegenation.
At the end of 19th century and the early years of the 20th century, many other immigrants came to blend their blood with Brazil's people. Italians, Japanese, Poles, Spaniards and Germans were the main influx of new citizens.
Religion: Most Brazilians are Roman Catholics. Nevertheless, every religion is freely represented and has its rights assured in our Magna Charta. The godmother of Brazilian Catholics is the Black Virgin, 'Nossa Senhora de Aparecida' ("Nossa Senhora" means "Our Lady"). Actually, people here are very fond of the female aspect of God.
Jews and Muslims live in harmony. There are many branches of Protestants and several other faiths and creeds, like spiritists, afro, etc. Since the 1960s eastern groups have sprung up everywhere — Buddhists, Brahma Kumaris, Hare Krishna, Siddha Yoga, Rajneesh, Sufism, Sai Baba, Sri Aurobindo, Maharishi Mahesh Yogi, Paramahamsa Yogananda's Self-Realization, Ananda Marga, and AMMA's followers.
---
Luiz Antonio, 87, a retired Captain of the Brazilian Merchant Navy, is a Vedantist in Rio de Janeiro since 1961. During his three visits to Holy India, he had been in its every nook and corner, meeting many inspiring seniors swamis. He was also privileged in hosting at his home several monks and nuns of our Order. Nowadays he spend his days surrounded by books on Vedanta and occasionally translating articles into Portuguese. His Love and faith in the Holy Trio makes him feels positively comfortable about the nearness of Lord Yama's visit. Luiz can be reached at luizeneida@yahoo.com.br.